Five years ago, Koops expanded its presence in the Southeastern United States by opening a facility in Greenville, South Carolina. We are proud to say that we have outgrown our 15,000 sq. ft. location and have moved to a newly remodeled $2.2 million-dollar, 45,000 sq. ft. facility at 25 Brookfield Oaks Drive.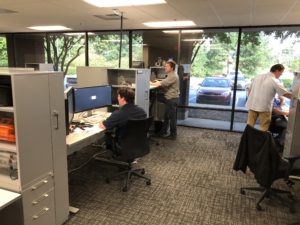 The steady growth of Koops is due in no small part to our continuous drive for excellence in every area, including our facilities. In building out our new Greenville facility, we designed the layout to implement the highest standards and best-practices in the industry. The open office format emphasizes communication and collaboration by implementing more ergonomic office furniture like height-adjustable standing desks and technology-equipped conference rooms.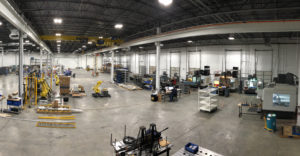 Our new shop, equipped with a 10-ton crane and drive-in bay for loading and unloading large equipment ensures the safe and efficient flow of material and components through dedicated areas for receiving, raw material storage, part racking, 2D/3D machining, fabricating, machine assembly, machine panel building, and inventory. Additionally, the capacity of the machine detail group was increased with the addition of two new Haas VF series mills. The facility is sized to allow Koops' Southeastern team to triple in size before reaching full capacity and plans are in place to hire 20 new, full-time team members within the next five years.
Greenville County Council Chairman H.G. Kirven Jr. expressed his appreciation of "Koops . . . decision to expand its manufacturing operations in Greenville County." He noted, "Koops has found that its success here is derived from both its dedicated employee team and the strength of Greenville County's supportive business climate."
Koops CEO Paul Brinks agrees, stating "this state-of-the-art building will help us better serve our customers' needs and will allow us to increase our automation output. Greenville County has proved to be a lively, growing, and business-friendly industrial environment . . . suitable for Koops Inc.'s growth into the future."
The future of custom automated systems in the Southeast is bright as global companies continue to invest in new and expanded manufacturing facilities which increasingly rely on custom automated equipment to meet the high quality and demand requirements of the global market. We are proud to be a leading force in the industry and are confident that our new facility will only improve our ability to serve the market.
For more information on Koops visit www.koops.com