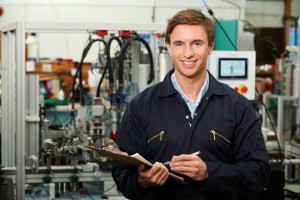 The key to keeping an automation system working properly is regular and proper maintenance. Companies that proactively take care of their machines benefit from less downtime and fewer unexpected repairs. It's imperative to schedule some downtime on the production line for preventative maintenance. These maintenance tips for optimal automation will help any company extend the lifespan of their automation system.
It's easy to set up a preventive maintenance plan, but it does take a substantial amount of time. It will benefit companies to create a checklist of steps to take to keep the system functioning. This includes regular software updates, to keep all systems running as efficiently as possible. It's also a good idea to create an itemized component checklist and, if possible, have spare components on hand to minimize downtime when there's a problem. It can be expensive to purchase parts that aren't necessarily needed, though, so another option for the business is to ask a local vendor to stock the items needed in exchange for a purchasing partnership. This option will likely be a little more expensive than buying parts only when you need them, but it's worth it for the company to minimize system downtime. Koops, Inc. offers a documents package that can keep track of your preventative maintenance schedule and the parts that should be kept in stock.
The next step on the list of maintenance tips for optimal automation is to schedule a weekly or monthly window of time when the system can be shut down for maintenance. During that time, the technician should consult the checklist for the maintenance steps to take, also consulting the component list to replace spare parts if necessary. By doing this on a regular basis, the system will perform as quickly and efficiently as possible.
Companies do have to invest time and money into preventative maintenance routines and replacement parts, but by following our maintenance tips for optimal automation, this inconvenience is offset by the improved performance of the system. If you do not have a large team with a designated technician to perform these checks or possible repairs, Koops, Inc. can offer you a contract to have all your preventative maintenance routines performed by our staff.
What are your best maintenance tips for optimal automation?