Introducing the Mark Two 3D Printer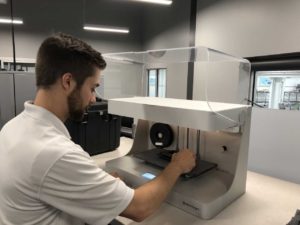 At Koops, we're always looking to move forward. You don't stay the best unless you remain open to the newest and latest tech available. It is with that in mind that we are excited to announce our latest addition to our team, the Markforged Mark Two 3D printer.
With the Mark Two, we can print carbon fiber, fiberglass, and Kevlar reinforced material, building prototypes that will save engineers design time and allow us to know if something will work, or if we need to rethink the plan before too much time and resources are invested into the design.
The Mark Two allows us to adjust the number of fibers, letting us choose which layers are reinforced as well as the orientation of the fibers. The 3D print is almost as strong as aluminum and has a great strength-to-weight ratio. This will be a big help when we manufacture end of arm tooling that requires high-speed motions.
Using the Mark Two, we won't need to machine prototype parts, saving time and money. The 3D printed prototype pieces will be used to research how your parts will interact with our equipment. We can also print parts that aid in the manufacturing of metal or plastic. Sometimes, we need to make or modify a part that doesn't fit into a common vise. Now, with the Mark Two, we can print a secondary part that allows us to clamp onto the abnormally shaped parts that are being machined. It can also print fixturing that allows machining at a compound angle.
We can also use the 3D printer to build complicated parts that would be very difficult to create using more traditional methods. It can also be used to quickly build a piece for a temporary solution. For example, if you need to change your design we can use the Mark Two to print a piece that will get the job done until our machine shop is able to manufacture a more permanent solution.
What this means for you:
Aspects of the design can be proven out during the design process, letting you see the prototypes sooner, saving time during initial testing

The cost of machines can be reduced by avoiding an expensive manufacturing process to machine a part using traditional methods

Required changes can be implemented sooner by printing temporary parts

Faster cycle times and longer life of components can be achieved by the reduced weight of rapid motion components
If you have any questions, please feel free to Contact Us!