In this employee highlight blog, we are introducing you to Bob, an employee in our Machine Assembly department. Learn why he enjoys working at Koops and get to know a few more interesting insights about him!
Q: What is your name and what location do you work at?
I'm Bob Schreur and I work in the Machine Assembly department in Holland, Michigan. I've been married for 30 years and have 2 sons, a daughter and a daughter in law.
Q: How many years have you been at Koops?
I have been at Koops now for 3 1/2 years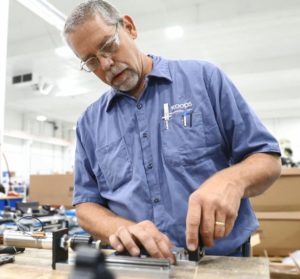 Q: Where did you receive your education?
I went to Holland Christian High School and started taking classes at GRCC through Koops' apprenticeship program. I am working my way through the program to receive by journeymen certificate.
Q: What was your past work experience before working at Koops?
Growing up I worked on a poultry farm and thought about pursuing a career in the USA egg inspecting field after high school. I ended up switching to working in a shipping warehouse for 28 years. I was Crew Lead most of the time there and organized day to day shipments all around the world.
Q: Why did you choose to work at Koops and what do you enjoy most about your job?
My son Reid went through the Co-op program at Koops. He would come home and tell me what Koops was like, the company, what they made, the leadership, the people, integrity and the work ethic. I started thinking if I was ever to start over in a new career this is what I would want to be a part of. Through a series of events, God laid a very clear path that led me to be hired at Koops and I have never regretted it.
Q: Describe a typical day at the office.
A typical day for me is being able to use the talents and interests I was given. The things I have learned and continue to learn about machine assembly guide us to build machines that most often exceed customers' expectations. I enjoy being able to spend time with coworkers with the same goals, ethics, and beliefs who have become friends and who really care about me.
Q: In your time at Koops, what are you most proud of?
There are a couple of things that I am most proud of. First, is to be a part the machine assembly team. We have built machines where our customers have commented that our machines have surpassed their expectations. The other is to be part of a company that truly cares for you and your growth.
Q: Before working at Koops, what was the most unusual or interesting job you've ever had?
My most interesting job I had was while working on the farm. First thing in the morning I had to walk through the coops and pull dead chickens out of the cages. Even though it was a menial job I learned very quickly to do the job like it was the most important position on the farm. If not, after the second or third day of the chickens decaying, you would find out the results of a halfhearted effort.
Q: What do you enjoy doing outside of work?
When not at work I enjoy camping with the family, a little bit of woodworking and cooking and baking in the kitchen.
Q: What is your favorite vacation spot?
I would have to say my favorite vacation spot has been Orange Beach Alabama, even though it has been quite a few years since our family has gone there.
Q: What are your favorite kinds of food?
Favorite foods are of course "Uncle Bobs Caramel Corn" made by me. I also enjoy burgers and fries any time of day, yes, even for breakfast!