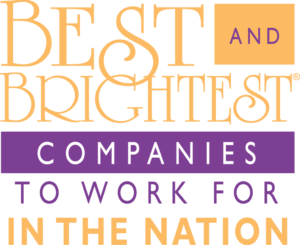 We are so thankful to be awarded another Best and Brightest Companies to Work for award – this time at the national level!
The Best & Brightest Companies to Work For® competition identifies and honors organizations that display a commitment to excellence in their human resource practices and employee enrichment. Organizations are assessed based on categories such as communication, work-life balance, employee education, diversity, recognition, retention and more. Surveys were used to determine the winners of the award. The first survey was based on employees' thoughts and observations about their workplace. The other survey involved Human Resources and rated how well the business policies matched the experience of their employees.
As an Employee Owned Company our team member opinions and statements are very valuable to our assessment of our organization. We are proud to have team members who have stated the following about our team and our values: "We are all united here as a team", "Willingness to be open and honest." "I am not going to go to a customer's facility and solve a problem for them in the easiest way possible necessarily for me, because it wouldn't always be the best solution for them." "I've made mistakes, and I've always been able to grow off of those mistakes and become a better electrician." "Would you rather an employee build your machine, or an owner?" "We are hiring partners."
Here at Koops, we believe our people are our strength. We pride ourselves on maintaining a fun and welcoming culture while providing our clients with superior service. Our buildings have been built with our team in mind. We understand that when our team members are engaged and immersed in their work can produce amazing results. In order to cut down on office noise, we have white noise playing throughout the buildings. All of our teams sit together in order to increase effectiveness and we have many conference rooms to accommodate customer and/or internal meetings. We have the additional space to ensure we prepared for future growth.
We know that what happens outside of work is important too. Here at Koops, we love to have fun. Our team members enjoy a variety of activities together after hours. We have basketball and softball teams and are proud to say our basketball team is the recreation league champion! Team members also take part in a running and mountain bike crew. We also enjoy various disc golf scrimmage, golf outings, and skeet shooting. Sports and activities are great, but what makes Koops stand out is the way team members view giving back to their community and to their fellow team members. We have a program which allows paid time off to be donated to team members who fall on hard times with health situations. We also have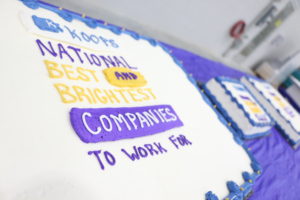 various events to help out our local community; including designing and working on a local playground and gathering and assembling care baskets for those in need.
Congratulations to our great employees at Koops who made this award possible. We are thankful to have you all as part of our team. To learn more about Koops or to find out about joining our team, visit our website.