Drew Scholten works in our Fabrication Department. Learn more about him, where his love for welding came from and why he enjoys working at Koops in this employee highlight blog.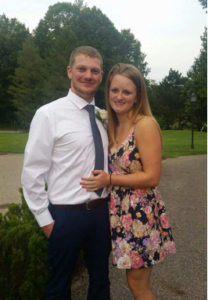 Q: What location do you work at?
A: I work in the Fabrication Department in Holland, Michigan.
Q: How many years have you been at Koops?
A: I have worked at Koops for about 3 years.
Q: Where did you receive your education?
A: I have an Associates in Welding Technology and will be graduating in May with a Bachelors in Welding Engineering from Ferris State University.
Q: Why did you choose this field/career?
A: I have always been a "hands-on" type of person. Growing up on a family dairy farm I was exposed to many different trades at an early age. The one thing that I always found to hold my attention was welding. Watching my dad weld broken plows and farm equipment always fascinated me, how he could take two broken pieces and turn them back into one amazed my young mind. It wasn't long, and I was welding in our farm shop, building anything that I could think of. Then in high school, I took a welding class at the local tech center that exposed me to the engineering side of welding. As the saying goes I never looked back. I decided to go on after high school and get my degree in Welding Engineering because it was a perfect mix of how I was brought up to work with my hands and engineering.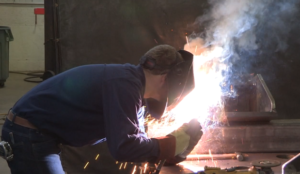 Q: What do you enjoy most about your job here at Koops?
A: I enjoy my co-workers here at Koops the most. Everyone that I have worked with since starting at Koops has always been very helpful. The atmosphere in the shop is almost always light and filled with humor, we take our work seriously but not ourselves. Being able to joke and talk while working makes the day go quicker and you never dread coming to work the next day.
Q: Why do you choose to work at Koops?
A: I choose to work at Koops because of the company culture. Everyone is supportive, and it is more like a giant family versus a corporation.
Q: Describe a typical day at the office
A: A typical day at the office for me right now is a lot different than most people. I still go to school full time at Ferris State University in Big Rapids while I am finishing up my bachelor's degree. I have classes Monday through Wednesday, then Wednesday night I leave my apartment in Big Rapids and come back to Holland. Thursday and Friday, I work 10-hour days at Koops in the fabrication department where I build custom machine bases.
In the fabrication department, we work closely with the engineering department and the machining department to ensure that the machine frames being built are the highest quality that they possibly can be. When building machine bases we start out by cutting all the tubes and plates, this is a very important step because if the cuts are incorrect in the beginning it creates problems all the way through the build. After the parts are cut and prepped we use the machine prints to precisely build the frame.
After working at Koops I then spend the rest of my time helping my dad and my brother on their farms. Whether it is fixing broken equipment, modifying equipment to better suit our needs or plowing and prepping the fields, there are few days that are the same and even fewer that are relaxing.
Q: In your time at Koops, what are you most proud of?
A: While I have been working at Koops I have worked in a couple of different departments and something that makes me proud is the quality that everyone at Koops is determined to put into the products that we produce. It doesn't matter what department we are in, everyone at Koops puts forth the extra effort to ensure the highest quality product.
Q: Before working at Koops, what was the most unusual or interesting job you've ever had?
A: Living and working on a dairy farm is something that I wish everyone had a chance to experience. It creates a work ethic like no other job can and it instills a love for animals. While I may not have been able to take far away vacations or had more than a handful of relaxing weekends, growing up on a farm is something that I will never regret.
Q: What do you enjoy doing outside of work?
A: Outside of work you can find me in the woods or somewhere on the water. I am an avid bow hunter and love to fish. All summer long I spend long hours putting in food plots and checking trail cameras with the anticipation of that big buck walking out in early October.
Q: What is your favorite vacation spot?
A: My favorite vacation spot is Drummond Island in the Upper Peninsula. It offers some of the best views looking out over Scotts Bay of Lake Huron. I took the photo below from the porch of the cabin I stay at on Drummond Island.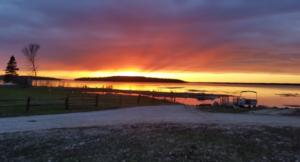 Q: What are your favorite kinds of food?
A: As my girlfriend can attest to, I am one hundred percent a meat and potatoes kind of guy. A good steak with some garlic mashed potatoes just can't be beat.
[:]