We we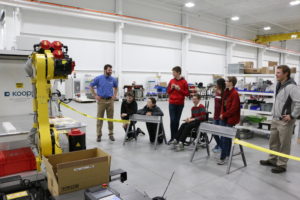 re honored to take part in a great program through Holland Christian High School called Winterim. This is a week-long program, outside of traditional curriculum, at Holland Christian High School that allows students to be exposed to new ideas, explore potential careers and learn new life skills. Students can choose between taking two mini-courses or taking part in an internship.
We partnered with JMS Incorporated on one of the mini-courses which took a deeper look at the world of manufacturing. The students were tasked with making the Holland Christian logo into a commercial product (an ornament, magnet, etc.) that could be sold in stores. The students took a tour of JMS to better understand the metal stamping process and then toured Koops to understand the assembly side of manufacturing. Giving students a look into both companies allowed them to utilize the capabilities from both JMS and Koops to come up with a solution to the project that was presented. The students split into two groups to do market research, look at market trends, pricing, product feasibility, come up with a manufacturing plan, and decide which product they were going to manufacture. After each group finalized their business case, they presented it to a panel of judges that asked hard-hitting business questions about their case.
This was a fun experience for all of us at Koops and the students. It wa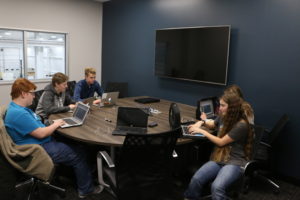 s great partnering with JMS and Holland Christian to help educate students about manufacturing. We even had a few students work at Koops for the week as interns. They were able to gain hands-on experience learning what it takes to assemble, debug, and engineer machines. They spent time in different departments to get a better idea of how machines flow through Koops. This is very valuable to students to get experience and we are thrilled to invest in students.
To learn more about Koops, visit our website.