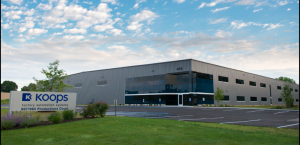 Growth and expansion are not new to Koops. Founded in 1989, by Wesley Koops, Koops was dedicated to supplying its customers with special machine designs and engineering services. Koops has since developed its capabilities from an "engineering services" company to a "full service" company that showcases our hallmarks of service and support. In July of 2000, Koops broke ground at the 987 Productions Ct. plant. At that time there were only 6 full-time employees. All are still part of the 172 employees at Koops.
Global sales growth for industrial automation systems are on the rise. Global demand for automation equipment is expected to hit $200 billion in sales in the next few years. According to Koops CEO, Paul Brinks, "Growth in the automation systems industry is on the rise because manufacturing companies worldwide are seeking ways to lower production costs while improving quality through expanded automation processes."
The expansion project was awarded a $360,000 Michigan Business Development Program performance-based grant. Additionally, Koops received a grant from West Michigan Works! for more than $90,000. These funds are being used for training employees and to support recruiting efforts. The City of Holland also offered to support the project in the form of a property tax abatement.
For more information on Koops, visit our website.