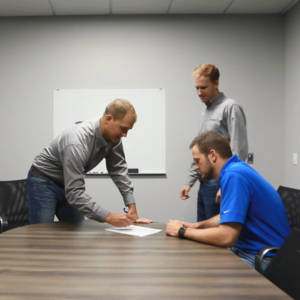 When you have a manufacturing process you want automated, you look to an expert in factory automation systems to provide you with guidance. Koops has the ability to provide the best solutions to meet your requirements. Incorporating best of class technology and a team of talented professionals, our innovative solutions will exceed your expectations.
Now that you know who to call, what are the first steps? We have put together a list of information we need from you to get your quote started.
Description and details of the product- This should include product description, facts, critical process parameters and product assumptions.
Approved budget for the project – Staying within your budget guidelines is important and allows us to know what amount is available to meet your project needs.
Project timing – Understanding your deadlines will help us to deliver your equipment on time.
Detailed operation sequence for specific machines – whether your project includes one or more machines, knowing the order of operation will help us establish a working solution.
Product sketch- If you have a sketch of the machine you are envisioning, that can be helpful for the quoting process, but is not necessary.
If you do not have all the information above, don't let that stop you from contacting us. Our business development specialists and engineers will work with you and develop a custom solution that will fit your product needs. We are a leader in custom assembly solutions and provide custom solutions for even the most complex projects. We encourage you to learn more about Koops and invite you to contact us to request a quote for your next project today.