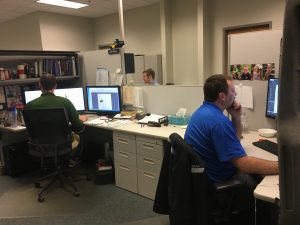 When you have a process you want automated, you need someone that will understand your product, see your vision and come up with a solution. Although, you are the person that knows your product the best, you might not know the steps to begin automating your process. Koops will help from concept to completion of your customized solution. We employ highly trained professionals that provide superior service and intelligent solutions for any and all manufacturing issues. Our engineers are experts in the latest technologies and are experienced in a variety of disciplines to successfully complete any solution. Here are 7 reasons Koops engineers are the best in the business.
Our engineers are problem solvers. If you have a product you are thinking of automating, our engineers work to solve your challenging application.
They are creative. Our engineers are continuously coming up with new processes and ways of constructing a machine to be more efficient.
They are attentive to detail. Our engineers will make sure everything meets project requirements before the project is complete.
They make a great team. All of our engineers (mechanical, electrical, controls, launch) all work together to make your project a success. When you work with Koops, you are not just getting the attention of one person on our staff. Instead, you are benefiting from our collective knowledge.
They are continually learning. No projects are the same. Every piece of equipment Koops builds is custom and from wide ranges of applications. Designs, experience, and lessons learned can be applied in unique ways to each project.
Through the entire project our mechanical design, programming, and launch engineering maintain responsibility throughout the project life cycle helping to maintain a closed feedback loop which helps ensure project continuity and success.
They are highly trained and educated. We employ a full staff of highly trained and degreed engineers, expertly trained and knowledgeable to ensure successful projects.
Our goal is to ensure that you are delighted with Koops as your partner and will trust us for your next project. Contact us today to learn more about our rock solid engineering solutions.